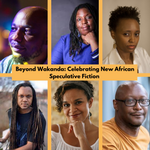 November 12, 2021: We chatted with 6 authors of African sci-fi and fantasy, and launched several new books. These included Seasons in Hippoland by Wanjiku Ngugi, Children of the Quicksands by Efua Traoré, Cosmogramma by Courttia Newland, Library of the Dead by Tendai Huchu and Theory of Flight by Siphiwe Gloria Ndlovu. Brittle Paper founder and editor, Ainehi Edoro spoke with writer and scholar Wole Talabi about what the term "speculative fiction" really means and how it connects with Afro-futurism. Hosts Bhakti Shringarpure, Ainehi Edoro and Lizzy Attree also asked the authors about their inspirations and influences, the trends in African speculative fiction publishing today and if their YA, fantasy and sci-fi books tend to have political intentions. 
You can watch this spectacular book talk here:
And if you want to read these fabulous books, go and get them at our Radical Books Collective Bookshop!