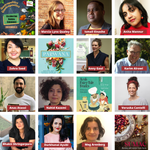 by Bhakti Shringarpure & Meg Arenberg
Seen as indulgently visual and often fairly pricey, it seems like a stretch to think of cookbooks inspiring radical acts. But if slurs about food smells and ingredients are persistent forms of racism and xenophobia, then cookbooks are their precise antidote. Cookbooks can be conduits of history, repositories of ephemeral knowledge that is often only carried down through family conversations and practices, and can completely alter pre-existing perspectives on people, places and cultures.
How can we think of teaching, archiving, translating and writing recipes as revolutionary practices? 
As one of the most fundamental aspects of human experience, eating and cooking cannot be separated from our social and political worlds. What and how we eat carries markers of our personal, family, and societal histories. Laila El-Haddad and Maggie Schmitt write in their introduction to Gaza Kitchen, "to talk about food and cooking is to talk about the dignity of daily life, about history and heritage in a place where these very things have often been disparaged or actively erased." 
Recognizing kitchens and cookery as feminized spaces and practices is the first step in understanding cookbooks as a practice of gathering and recording, in particular, women's wisdom, knowledge, and experience. Rather than books which limit women's knowledge to a narrow notion of the domestic arts, however, radical cookbooks recognize the process of tracing practices, rituals and stories around food and cooking as an opportunity for revisiting and reframing histories from which women's voices are often removed or ignored. Some may disrupt the idea that cooking "traditional" foods is primarily a woman's domain.
Rather than understanding cookbooks from a perspective of food nostalgia or self-exoticizing, it is imperative to consider that the communities convened and connected by culinary practices and foodways may be communities at risk of dissolution. Cookbooks that articulate vibrant cultural worlds thus refuse dehumanizing language and narrow stereotypes attached to migrant communities in their new environments. In Parwana: Recipes and Stories from an Afghan Kitchen, Durkhanai Ayubi counters the persistent images of Afghanistan as a hostile "wasteland to be pitied" with images and food rituals associated with fecundity and abundance, and long histories of the region's interconnection and culinary cross-pollination with other parts of the world.
Sean Sherman, a chef and restaurateur growing up in Pine Ridge Reservation in South Dakota recalls his family's tiny indigenous kitchen where the smells of taniga and Wojape, two Latoka soups that have a treasured place in his memory. But he connected these memories to an epiphany several years later in his book The Sioux Chef's Indigenous Kitchen: "I realized how grossly underrepresented Native American foods are in the United States." Sherman set out to write a book about the joy of indigenous cooking and gather together recipes, "handed down through the ages, generation after generation…" and which "are integral to our culture."
The last decade has led to an uptick in cookbooks focusing on migrant stories told through cookbooks and recipe collections. US-based publishers, Interlink Books, have become a rich resource and have been publishing cookbooks on Syria as the war and catastrophic displacement unfolded. Soup for Syria: Recipes to Celebrate Our Shared Humanity edited and photographed Barbara Abdeni Massaad was published in 2015 and was premised on the need for urgent food relief. "The world has failed Syria's refugees and some of the world's wealthiest countries have turned their backs on this humanitarian disaster. Syria's neighbors- Lebanon, Jordan, Turkey, and Iraq- have together absorbed more that 3.8 million refugees." Soup for Syria gathered soup recipes from celebrity chefs and all sales profits from the book were given to non-profit organizations working on food relief for the displaced Syrian populations. 
Without a doubt, cookbooks can be much more than decorative coffee-table objects and aesthetic trophies for the elite. We have put together a set of short conversations with scholars, artists and cooks who think about food and foodways in expansive terms, and who situate their recipe selections within political histories and against damaging ideas about cultural others. 
Parwana author Ayubi evocatively invites her readers to "see the transcendent connections between things--to recognize that the rivers of self empty into the oceans of all, which lap against the shores of the universe." A radical cookbook is just the beginning. 
About our event:
Do join us for our event Gastropoetics, Gastropolitics: Celebrating Radical Cookbooks by signing up. Event will be live-streamed for free across various social media platforms but do support us if you can: 
https://radicalbookscollective.com/collections/radical-book-talk/products/dec-3-gastropolitics-gastropoetics-celebrating-radical-cookbooks
We have invited Zohra Saed, the founder of UpSet Press in Brooklyn, NY and hope to draw attention to this fundraiser that is sponsoring an Afghan writer, an Afghan teacher, and a family of 12 members, comprising three separate family units, for Humanitarian Parole. 
https://chuffed.org/project/evacuation-and-resettlement-for-literary-artistic-uzbek-afghan-families
And finally, here is a smattering of the radical cookbooks we recommend.
Sumac Recipes and Stories from Syria by Anas Atassi Buy Here
Arab Fairy Tale Feasts: A Literary Cookbook by Karim Alrawi. Illustrated by Nahid Kazemi. Buy Here
Parwana: Recipes and stories from an Afghan kitchen by Durkhanai Ayubi Buy Here

The Sioux Chef's Indigenous Kitchen by Sean Sherman with Beth Dooley Buy Here
Soo Fariista / Come Sit Down: A Somali American Cookbook by Wariyaa. Foreword by Osman Mohamed Ali Buy Here
Decolonize Your Diet: Plant-Based Mexican-American Recipes for Health and Healing by Luz Calvo & Catriona Rueda Esquibel Buy Here
Palestine on a Plate: Memories from My Mother's Kitchen by Joudie Kalla Buy Here
Saka Saka: South of the Sahara – Adventures in African Cooking by Anto Cocagne Buy Here
Original Tanzania Cookbook by Eva Pandaeli Buy Here
The Gaza Kitchen: A Palestinian Culinary Journey by Laila el-Haddad and Maggie Schmitt Buy Here
Eating Asian America: A Food Studies Reader by Anita Mannur Buy Here
Soup for Syria: Recipes to Celebrate Our Shared Humanity by Barbara Abdeni Massaad Buy Here
Handmade: Stories of strength shared through recipes from the women of Sri Lanka by Abarna Suthantiraraj, Shruti Thiruchelvam, Frank Thiruchelvam et al. Buy Here
The Immigrant Cookbook: Recipes that Make America Great by Leyla Moushabeck Buy Here
Dining in Refugee Camps: The Art of Sahrawi Cooking by Robin Kahn. Buy Here
Cooking a Home: A Collection of the Recipes and Stories of Syrian Refugees edited by Pilar Puig Cortada Buy Here
Yolele! Recipes from the Heart of Senegal by Pierre Thiam Buy Here
Malabar Muslim Cookery by Ummi Abdallah Buy Here