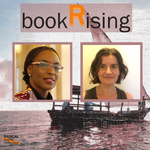 Our podcast BookRising has officially launched. 
In episode 1, Meg Arenberg is joined by Kenyan novelist Yvonne Adhiambo Owuor to celebrate the momentous occasion of Abdulrazak Gurnah's Nobel Prize, in her words, "a family win." Owuor talks about Gurnah the man and the mentor, the textures of his writing and how it has influenced her own, and reflects on the cartographic imagination that nourishes both poetry and prose born from the Swahili seas.
The conversation between Owuor and Arenberg is followed by a short reading from By the Sea (2001), one of Gurnah's most poignant depictions of the migrant experience and the rippling effects of colonial violence in the lives of ordinary people. In a few deft strokes, the passage orients us to the layered histories of Zanzibar's encounters with the world in both their raucous beauty and their brutality.
Listen here >>