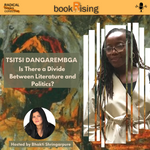 Our BookRising podcast features award-winning writer Tsitsi Dangarembga. We have transcribed an excerpt which discusses the challenges of writing engaged, political literature in the shadow of capitalism.
Bhakti Shringarpure: You are a very engaged and courageous writer. You use that particular position to expose and highlight some of the things going on and this is unique at this point in time. In our current moment, particularly in the West, which still tends to hold the reins to literary circuits and publishing, we have moved very far from the call for what is called "engaged literature" or "literature of commitment" that was made popular by Jean-Paul Sartre after the second World War and which insisted that artists and writers take their political, social responsibilities seriously What do you think of this idea at the moment?
Tsitsi Dangarembga: I don't really see myself as an engaged writer as such. I see myself as someone who is interested in the people around me, I'm interested in the lives of people around me. I'm interested in whether the people around me are living good lives, dignified lives…whether they feel that they are able to self-actualize and realize some of their dreams. And the situation in Zimbabwe is such that this is sadly not the case. So, I like to have characters that are recognisable to other Zimbabweans and I like to analyse these characters for their successes and failures. I like to investigate what enables them to achieve what they want to achieve and what stops them from achieving these things. And basically it is the structure of society.
There is no room for individual failure because society is constructed in such a way that an individual abets against society with every single move. And this comes, of course, from the relationships and the relations of colonialism that we had in Zimbabwe until the 80s, which was not very long ago. And we now live in a post-colony, a state where the relations of colonization have simply changed the content but have not changed form. And so people are abetting against the same kinds of structures that preclude their progress as before. And so when I accompany my characters through their lives of effort and struggle to become the best human being that they can become, I inevitably have to describe these structures.
Sometimes, I wish I did live in a different environment, where I could tell different kinds of stories but I don't. I'm here and I write about people and so those are the kind of stories that I do produce.
People do produce literature the does not have to engage in the way that you do, and that is not necessarily committed to the precise issues that you outline. For example, your trilogy, particularly, This Mournable Body doesn't shy away from articulating and complicating questions of gender and women's rights in Zimbabwe. We have a ton of literature being produced – escapist literature, fun literature –that is not necessarily committed to trying to represent the problems in society. You have managed to combine storytelling and the craft of writing…the craft of the novel while remaining extremely engaged with exposing political issues particularly, gender issues in the society that you live and work in. How do you succeed in the politics and the craft?
There are two sentences that were really formative for me as a young writer and a woman. First of all as a young feminist I of course was really impressed by the feminist slogan, the personal is political. And then as a writer who did not have any training in creative writing, I read around to find answers to questions I had about craft. And one of the things I read is that good writing introduces a new kind of character to the world. And so those are the two guiding principles. I wrote about people and I'm very sure that I want the people I write to be recognizable. So far I have done this in a realist manner but at the moment I'm writing a young adult speculative and I want this to be the case. Even though the world is speculative, I want people to be able to recognize the struggles that the character is going through and so this is central to me — to concentrate on the person, to concentrate on character. For me, my intention is to take a character from one point to an end point and to understand why this character moves through their world in the way that they do so that their development takes the trajectory that it does. And that's the point of departure for my work and everything else flows from there. 
You said that you were struck by "the personal is political" and you know this exact mantra has become a way to sell t-shirts and brands and you know, it is now enough to just have attitude and to embody feminist thinking and activism through a hashtag or through clothing and so on. There is something that has gone awry as well with those types of ideas. You have taken the slogan to its exemplary end. But we live in fairly perilous times and I think we are reminded of this again and again. We have climate change, immense political upheaval, displacement, war, violence and so on. But do you feel that there is a proportionately serious and an engaged response from fellow artists, writers, filmmakers today?
This last bit of the question ties in with what you said earlier about slogans on t-shirts. We live in a capitalist world where everything that has value is turned to profit and so, of course, if somebody sees that a particular slogan with its real content is gaining value in a community, in a society, then that slogan is going to be turned to profit. And in that process, the actual meaning of that slogan for the community or the society is going to be eradicated because now the value lies in profit and not in meaning. So, that is the world we live in.
I have taken the decision that I will not be dismayed when that happens. I'm going to expect it. Similarly it is not very easy for writers to avoid that process of being appropriated by Capital because at the end of the day writers need to eat! And in order to eat, you have to write what people will read. People can only read what is published and set before them...that they can buy. So, again what is published and set before people is controlled by Capital. And so we are going to see certain stories being selected and other stories being neglected. I would not want to blame writers in any way for turning their ability and their craft and their talent to those stories that will be selected.
Having said that I think there is growing understanding in the world of publishing that this is happening. I think there is pushback by those who are concerned about the world we live in. There is concern that as we leave a legacy for our descendants we realize that those kinds of content which are determined by that system of value that is designed only for profit in absence of meaning cannot provide security…not for us and not for our coming generations or for any other creation in the world. And they are becoming aware that we have to change things and start talking about meaning and creating new, progressive, sustainable meanings for ourselves. I think that this kind of thinking, this movement will increase. Of course, it will look different to the kinds of meanings that were engaged with by writers in the 1960s…the Sartres you mentioned. But I think that we will be in a new rung of the spiral and so I'm not at all hopeless. And I think that all the processes that we see now are simply the drive that will keep us spiralling upward.  
Tsitsi Dangarembga is a Zimbabwean novelist, playwright, and filmmaker. Her debut novel, Nervous Conditions (1988) was named by the BBC in 2018 as one of the top 100 books that have shaped the world. Dangarembga completed the Nyasha and Tambudzai trilogy after when her novel Nervous Conditions was followed by The Book of Not (2006) and This Mournable Body (2019). She is also a screenwriter and her films include Neria, Everyone's Child, Mother's Day and I Want a Wedding Dress. She was awarded the 2021 PEN Pinter Prize and was a finalist for the Booker Prize in 2020.

Bhakti Shringarpure is the Creative Director for the Radical Books Collective and one of the hosts for the BookRising podcast.