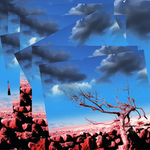 Our Translating Palestine program was livestreamed on October 21st, 2022. Here are the four recorded conversations: 
1. Translators and critics Marcia Lynx Qualey, Sawad Hussain and Alice Yousef discuss the challenges of writing, editing, translating and publishing Palestinian literature. 
2. Jehan Bseiso speaks with Maya Abu Al-Hayyat about her latest volume of poetry "You Can Be The Last Leaf" translated into the English by Fady Joudah (2022, Milkweed Press).
3. Meg Arenberg speaks to writer Sonia Nimr and translator Marcia Lynx Qualey about the translation, editing and publication of Thunderbird, Nimr's speculative fiction trilogy. 
 4. Suchitra Vijayan and Louis Allday celebrate the translation and publication of revolutionary Palestinian writer Ghassan Kanafani's works of literary criticism.